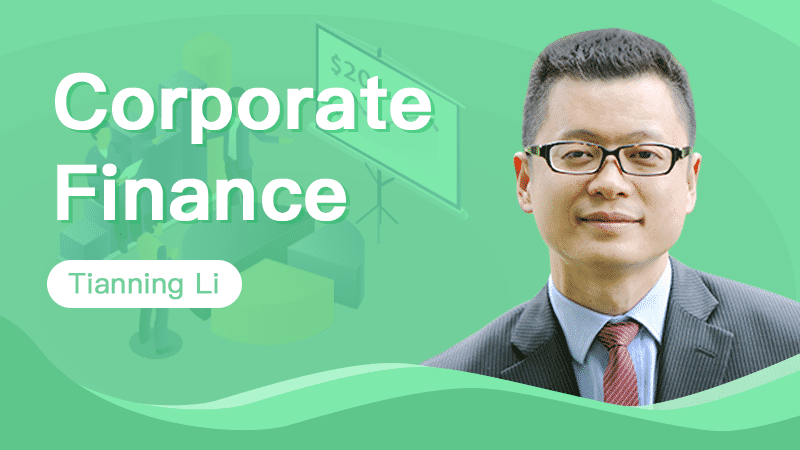 李天宁
This course provides an introduction to the fundamental analytical tools and use of information sources in corporate finance. Learners will be able to understand financial statement analysis, time value of money, valuation of securities, risk, rates of return and capital budgeting techniques. This course is not only a good fit for students who major in finance, it can also equip decision makers and employees with finacial knowledge.
For students that are finance majors, they will learn to think as a business manager whose goal is to maximize shareholders' value. In every company, someone has to manage that money or else the company doesn't stay in business for further development. That's the role of the corporate finance team. The corporate finance department is responsible for managing a business's money – forecasting where it will come from, knowing the current financial stage, and helping the CEOs decide how to spend to yield the greatest return. They look for ways to free up capital, increase profitability, and decrease expenses. If any department wants to make a big expenditure, it's usually run by the corporate finance team first to ensure that the project will be profitable. They will look at the best growth path for the company, whether that's through acquiring other companies or re-investing in the business to expand internally.
For decision makers, by knowing financial logics in bussiness operation while developing financial thinking, they can analyze the fund information more effectively, therefore help to make more specific business strategy. As for employees, having financial knowledge allows them to understand company's financial decisions, saving the communicating costs incurred by misunderstanding on financial process. Moreover, after taking this course, learners will be able to make intelligent personal financial plans: know how to budget, manage debt, approach investing in a disciplined way, and set up a retirement account. Those are financial techniques that will bring benefits to their lives and families.
Since the focus of the course is on the core principles of corporate finance, learners will learn to:
Understand the financial decision-making process and to interpret the impact that financial decisions will have on creating value.
Demonstrate knowledge of the concept of risk and its relation to value.
Show competency in quantitative tools and techniques that will aid managerial problem-solving and decision-making.
Demonstrate proficiency in using financial calculators to solve quantitative problems.